Copyright © 2013 CanineCancer.org.au All rights reserved.
WELCOME to the Australian Canine Cancer website. The aim of this site is to provide owners with one point where they can find relevant information about cancer in their canine companions.
In Australia, cancer will affect one in three dogs in their lifetime. There are many different types of cancer and a number of different treatments. The outcome can often depend on the diligence of owners, as well as the correct pathology being done, so that the right treatment can be determined.
Research is important so that in the future the treatments will provide a longer and better quality of life for our dogs. We have researchers both in Australia and overseas that are working towards future treatments and ultimately cures. Owners can assist with this once they are aware of what they can do to help. You will find information on research on these pages.
The medical content provided by this site has been checked for accuracy by the relevant oncologists listed on the bottom of each article. All links shown are to reliable sites which contain accurate information.
**This website is dedicated to Frodo the cancer survivor for 4.5 years, who was sadly taken by Vinca poisoning on 20 April, 2014.
Tj
10 common signs of cancer in dogs
1. Abnormal swellings that persist or continue to grow
2. Sores that do not heal
3. Weight loss
4. Loss of appetite
5. Bleeding or discharge from any body opening
6. Offensive odor
7. Difficulty eating or swallowing
8. Hesitation to exercise or loss of stamina
9. Persistent lameness or stiffness
10. Difficulty breathing, urinating, or defecating
These signs could relate to a number of different illnesses including cancer. If your pet shows any of these signs, they should see a veterinarian without delay.
Taken from the AVMA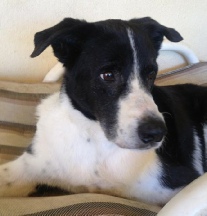 Cancer Prevention
Dr Greg Ogilivie talks about what you can do to prevent cancer in your dogs cliick here
How To Check Your Dog For Lumps
Dog owners should regularly check their dogs for lumps and bumps. Not all lumps are cancerous, but being diligent and seeking the advice of your vet may well save your dogs life if it turns out to be cancer. Early detection will give your dog a better outcome. Find out how to do this, with Dr Ken and Toby here
Latest News
Cancer discoveries and treatments are changing rapidly. Find out the latest news here